It's a wonderful time to be a woman! After decades of tampons and pads which exposed our bodies to pesticides, synthetic fragrances, bleaches, and nasty old dioxin, there are a now huge range of options for period care that are gentle on your body, and gentler on the planet.
People are eating well, using natural skincare and shampoos – and yet, most women are still placing pesticide laced cotton, plastic fibres and synthetic fragrances into their bodies each month. This isn't good for us, and the production of generic tampons and pads is no good for the planet either – growing cotton crops, producing rayon and polypropylene and bleaching sanitary products involves the use of numerous chemicals, pesticide sprays and chloride or dioxin bleaches.
It's time to give your body a break, and ensure that only the gentlest natural pads and tampons touch the highly absorbent skin of your precious insides!
The monthly marvel – Mooncups!

These little beauties are revolutionising the period experience. Made from medical grade hypoallergenic silicon, mooncups are super hygienic and safe for your delicate internal skin.
Because they are reusable mooncups are gentler on the planet – and save you a lot of money. The average woman uses over 12,000 tampons in her lifetime so your choice of feminine hygiene products can make a big impact on the environment!
Mooncups are great for women of all ages, shapes and lifestyles and because you don't need to change them as often as a tampon or pad, you can plan all sorts of sports and fun.
Many women only need to change them once a day on most days of their cycle, as they hold much more than a pad or tampon can.
And yes, they are comfortable – when a mooncup is properly inserted, you won't know it's there. Learn more about how to use a mooncup here. Easy to clean, mooncups can be rinsed in warm water and soap daily, and you can sterilise them in hot water or sterilising solution between cycles if you want to.
Watch this hilarious video to see why mooncups rock!
Organic tampons – no more bleach and pesticides in your body!
Avoid the chemicals, pesticides and fragrances found in normal tampons with TOM Organic Tampons or BON 100% Certified Organic Tampons – and enjoy a significantly lower risk of toxic shock syndrome.
Buying organic means less chemical fertilisers, herbicides, insecticides and fungicides – and the cotton farmers have a healthier environment too. Even the gorgeous boxes and cellophane wraps of BON's packaging are biodegradable and dissolve naturally with time, and TOM uses cardboard boxes too.
Tsuno and TOM  – organic pads for natural period care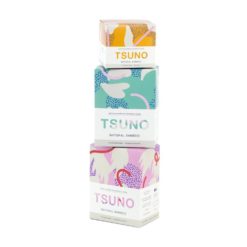 We love Tsuno pads which are made from super-sustainable bamboo and with a super soft
top layer of corn fibre. These bamboo pads are eco-friendly, super absorbent, breathable,
soft, naturally antibacterial, and free of chlorine or dioxin bleach. Australian owned, Tsuno pads are wrapped in biodegradable sleeves and packaged in recycled cardboard boxes.
Supporting women as well as the earth, Tsuno donate half their profits to the One Girl: an organisation which works to educate young girls in Sierra Leone & Uganda.
TOM Organic Pads are designed to make you feel great about what you put on your body, with slim pads made of soft, absorbent, certified organic cotton. Another great Aussie brand, Tom is committed to helping women and the earth by providing a bleach free, dioxin and polypropylene free choice for sanitary pads.
Have a look through our full range of mooncups, tampons and pads to see which choice suits you best, and buy online for swift, stress-free delivery.