Summertime is well and truly on the way – and we have a selection of gorgeous natural products to help you enjoy the sunshine safely.
See our Summer Showcase Selection for our top 10 summer sun care products
Mineral vs Chemical sunblocks – What is the difference in sunscreens?
Mineral sunblocks use natural ingredients like zinc oxide and titanium di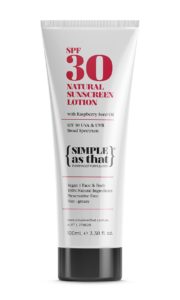 oxide which literally reflect the sun's rays away from our skin like a mirror. Because the minerals work immediately, the sunblock gives you instant sun protection. Also, these minerals don't break down quickly, so they can offer longer lasting sun protection than generic brands. We ONLY stock mineral sunscreens at Oh Natural and our favourite one for the whole family is the Simple As That sunscreen, which is non-greasy, rubs in super-easily and doesn't leave a white sheen.
Chemical-based sunscreens absorb rays in a chemical reaction that dissipates the heat back off the skin. Sounds great; right? But they can take up to half an hour to be effective, and the New Zealand sun can burn you faster than that!
Also, generic sunblocks use some nasty synthetic chemicals including skin irritants, endocrine disruptors, allergens and even chemicals which can lead to skin abnormalities – including cancer. Avoiding spray on sunblocks is a good idea as the particles in the air may not be safe to breathe in. See our watch list at the end of this article for more information.
Summer hair essentials – Get silky, sun-kissed beach babe hair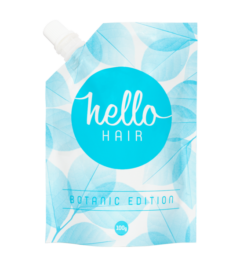 We've got all sorts of scrumptious natural hair care to keep your locks luscious all summer, from revitalising hair tonics to hydrating masks and nourishing natural shampoos and conditioners.
Fake that tan for younger, smoother skin
Any sun damage ages our skin cells, and makes us look older – and not in a 'fantastic forties' or 'enigmatic eighties' kind of way!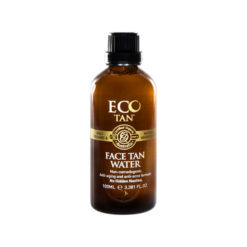 We believe that a natural fake tan is a great summer go-to product for tawny limbs without any UV rays! Eco Tan have a huge range of after sun care, face tanning water, fake tan, body wash and scrub for smooth, golden skin this summer.
Repair and rejuvenate sun dried skin with natural skincare
Our fabulous range of natural skincare products are just what you need to revitalise your skin after a big day outdoors this summer.  Cleanse, soothe and nourish for gorgeous healthy skin.
Facial serums are designed to rejuvenate skin at a cellular level, repairing the damage of UV rays. Look for vitamins, essential oils and super-botanical extracts to get a lasting result.
Stay Sun Smart! Summer is going to be a scorcher
As wonderful as natural sunscreen and non-toxic sun care products are, it's important to wear your sunnies and hat, cover up with cool clothing – and enjoy the shade on scorching days. Overall, the best protection is to limit exposure to UV rays.
Now get out there and make the most of our incredible country this summer – you can look your best and feel naturally fantastic, knowing you are taking great care of yourself, and your family!
Dangerous commonly used sunblock ingredients
– Oxybenzone, a synthetic estrogen that penetrates the skin and can disrupt the
hormone system, or cause photoallergic reactions,
– Octinoxate, an endocrine disruptor that mimics estrogen and can disrupt thyroid
function
– Octocrylene, can cause skin irritation,
– PABAs which can lead to a variety of skin abnormalities from discoloration to cancer
– Homosalate, a potential endocrine disruptor which may increase the absorption rate
of pesticides, and
– Parabens to preservative the sunscreen product.
Another common sunscreen ingredient to watch out for is Vitamin A, also called retinyl palmitate or retinol, as tumours and lesions develop sooner on skin coated with creams containing vitamin A.
See the Environmental Working Group's 2016 Guide to choosing suncreens for more tips!