Enjoy a clean, shiny smile – without toxins!
Regardless of what physical features you admire, it's hard to beat a bright white smile and a sparkling clean mouth. Great oral hygiene makes you feel fantastic, look gorgeous – and saves you those hefty dentist bills!
We were determined to offer safe effective oral care products that don't contain nasty chemicals, and are light in plastic to help you tread more lightly on the planet. We're excited to share our natural oral hygiene range for toothpastes, toothbrushes, natural floss and kid's teeth products!
Tooth care for tots – taking care of tiny teeth
Brushing the teeth of little ones is one of those crucial but tricky jobs parents need to handle every day with tact, humour and determination!
Our range of natural toothpastes, biodegradable kids toothbrushes, electric toothbrushes for kids (with BPA, PVC and pthalate free recyclable plastic, replaceable heads… and cute stickers) are designed to make the ritual a little easier, and remove some toxins from your children's lives.
Tasty non-toxic toothpastes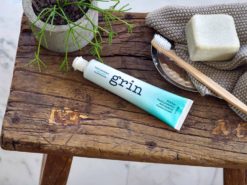 We've worked hard to bring you natural toothpastes that taste great as well as doing a great job of cleaning your teeth thoroughly – without the use of toxic chemicals.
Flavours include cinnamon, strawberry, orange and the classic mint – and they are all naturally flavoured toothpastes, with no sugar.
Wood and bamboo natural toothbrushes
The Got Wood bamboo toothbrushes have charcoal infused bristles for extra oral hygiene, and like the Go Bamboo toothbrushes, they come in biodegradable cardboard packaging and are specially designed to have a low impact on the planet. Bamboo is one of the most sustainable materials we can use because essentially it is giant grass, grows easily and doesn't require fertiliser or pesticides!
Floss, floss, floss
Flossing isn't just for special occasions – and it's super important for children's teeth. Ask your dental hygienist about your technique (it matters!) and check out this lovely new tooth floss from Dr Tung. It's called Smart Floss because it is clinically proven to remove up to 55% MORE plaque than regular flosses. It's also PTFE and BPA free and comes in biodegradable packaging.
Don't forget to try our charcoal tooth whiteners

By now you've probably heard about how charcoal tooth whiteners make you grin like a pirate while they clean your teeth to a delicious lighter shade. They are also awesome for oral hygiene as they cleanse the teeth of plaque with charcoal and lovely natural citrus oils. See our charcoal tooth whiteners here.
Dangerous common ingredients in toothpastes – Triclosan and SLS or SLES
David Suzuki Foundation advises that you "keep an eye out for triclosan (an anti-bacterial agent) and sodium laureth sulfate (SLS or SLES), which are commonly found in toothpaste, then avoid them. In the future if you buy toothpaste with one of the Dirty Dozen by accident, take it back to the store. Most retailers will honour a return."
Other chemicals you may find in toothpastes are polyethylenes which may be linked to cancer, immunotoxicity and organ system toxicity. And, you might also want to keep an eye out for toothpastes that list sodium saccharine, sorbitol or artificial sweeteners… sugar filled toothpaste just doesn't make sense!
Plastic facts that make bamboo toothbrushes look great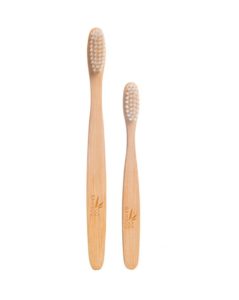 Plastic pollution lasts for centuries in the natural environment. Because small plastic items and plastic bags enter the storm water system and make their way down streams and rivers into the sea, they are moved by winds and currents to areas of relative still, called gyres.
There the masses of floating plastic slowly rotates and grows as more plastic debris joins the mass.
The size of the floating plastic garbage patch in the eastern north Pacific gyre is estimated to be 1,392,400 square kilometres… you can think of that as twice the size of Texas or over 5 times the size of New Zealand. There are 5 gyres known in the Pacific, Atlantic gyres and the Indian oceans.
Add the pollution from products containing microbeads and it's a grim picture for our oceans.
The Story of Stuff explains that these tiny pieces of plastic used in personal care products are designed to go down the drain and into our lakes, rivers, and oceans — by the billions every day. They absorb toxins in the water, are eaten by marine life, and can make their way
up the food chain all the way to our dinner plates.
The great news is that these products have been banned in the US and NZ will follow suit from July 2018.
Want to know more? Watch the video explaining microbeads here.