Guest blogger, Alice, tries out one of the hottest names in natural skincare in NZ: Tailor Skincare…
TAILOR MADE FOR EVERYONE
Cleansing isn't generally a process that gets the heart racing. But that was before Tailor Skincare hit the scene. I recently penned an article for lifestyle blog This Adulting Life on New Zealand skincare brands to buy where I mentioned Tailor Skincare as a top brand to watch. To my delight, the lovely girls at Tailor Skincare kindly reached out to me and sent me the Oil Cleanse and Masque.
All about Tailor
Tailor Skincare is produced locally in Wellington. All of the Tailor products, affectionately known as little blue gems are handcrafted in small batches to ensure the highest standards of quality. Each of their eight carefully curated products is "tailored" to suit all skin types. Tailor products are made from natural ingredients, packaged in stunning sapphire blue glass bottles. If you buy direct from Tailor, will be delivered to your doorstep in in a recycled cardboard eco-packaging. I don't know about you, but there is something heart-warming about the little details. Or if you're grabbing something from Oh Natural, Jenna stocks the Tailor range and has been a fan herself from the start.
Oil Cleanse – Makeup Removing Cleanser – 100mls
What is oil cleansing?
If you haven't jumped on the oil cleansing buzz, your life is about to change. Oil cleansing is the process of using oil (instead of soap or cleanser) to dissolve and remove dirt. Based on the premise that like substances dissolves like, the oils in Tailor Oil Cleanse essentially dissolve the oils in your makeup and other build-up from the skin and pores, ready for you to wipe from the surface.
Tailor Oil Cleanse
Oil Cleanse is formulated with antioxidant rich, cold pressed New Zealand grown hazelnut oil and organic coconut oil. The coconut oil gives it a comforting scent of coconut cookies – yum!  To use, massage 2-3 pumps of Oil Cleanse into the skin, let the oil sit for 30 seconds, and use a warm pre-moistened washcloth to gently wipe the oil away. I did find the biggest adjustment was switching to regularly using washcloths and cleansing at the basin (rather than doing a 2-in-1 shower job). Not to mention the additional laundry! But splashing water on your face won't rinse the oil off. However once I got used to the routine, I found there was something luxurious about taking time at the start and end of each day to cleanse and nurture your skin.
Why am I a fan?
Tailor Oil Cleanse is so powerful that it removes even the most stubborn eye makeup – including my lashes that are coated daily with three different products (including waterproof mascara). I have had salon facialists struggle to remove my lash products – no joke.
Despite being a powerhouse, Tailor Oil Cleanse will also leave your skin feeling clean, clear, fresh and balanced, without stripping the skin of its natural protective layer. You won't get the usual post cleanse tightness with this product – this doesn't mean your skin isn't clean. Moreover, Oil Cleanse really is tailor made for everyone: my little sister has dry flaky skin and has suffered from eczema her whole life whereas I have always had combination oily skin. Tailor Oil Cleanse works wonders on both our opposing skin types.
Masque – Detoxing Facial Treatment – 50mls
Why use bentonite clay?
When you think of face masks, you probably think first of clay. Clay absorb impurities and help heal your skin. You may have noticed, clay masks come in a multitude of colours and a multitude of clays—all of which have different specialties.
Tailor Masque is the ultimate detoxifying facial treatment containing deeply detoxifying NZ sourced bentonite clay. Bentonite clay is a very popular clay for skin benefits as it has tightening, acne-clearing, and impurity-absorbing abilities.
It is a great clay for oily skin as it absorbs excess sebum easily. Not only that, but it has electric properties that when mixed with water makes the molecules charged and attracts toxins out of your face and to the clay kind of like a magnet. This is also useful for skin ailments involving bacteria and fungus, and also impurities like psoriasis and eczema.
Tailor Masque
The original Tailor product is the famous sea green Tailor Masque. This masque has a cult following – just search #TailorMasque on Instagram if you don't believe me. You only need a thin layer of product and the masque dries fairly quickly – we're talking about 1-2 minutes. So no excuses to skip this important part of your skincare regime. I do find that if I leave Tailor Masque on after it has dried, my face feels very tight. Bentonite clay swells when mixed with water, making it a highly porous substance and extremely absorbent. I try to remove the dried masque as soon as it dries. A spritz of rosewater helps to relieve any discomfort thought, if for some reason you can't wash it off straight away aka someone is hogging the bathroom!
Would I recommend to a friend?
Yes! Tailor Masque has become a weekly ritual for me. My skin can even tell if I've gone without 'Tailor Masquing' for too long and sort of silently cries out for it, if that makes sense. Sort of the same way your body craves vegetables after a week of binging and boozing!
As well as the 50ml pot, Tailor Masque also comes in single use sachets for about $5 a pop (you'll totally get two uses out of it) so definitely try before you buy.
Final words
While Tailor did send me full sizes of their Oil Cleanse and Masque for the purposes of this review, which I very much appreciated, I'll let you in on the bigger picture. I have been a fan and regular user of Tailor Skincare for the past year. I have actually repurchased full sizes of the Oil Cleanse and Masque at least three times each. In fact I have tried the entire Tailor Skincare range, Oil Cleanse and Masque both come in first equal.
As a lay reader, I too would probably be suspicious of this glowing review. But the proof is in the pudding/my glowing skin and I wouldn't endorse something I didn't believe in.
Disclaimer: Please note that I was sent the abovementioned products by Tailor Skincare for consideration. The views expressed in this review are my personal opinions and are not in any way influenced by others.
About the Author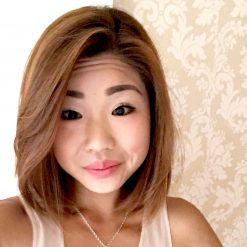 Hi I'm Alice and I am a finance lawyer, freelance writer, skincare junkie, gym bunny, breakfast foods lover and social media addict!