Give those toxic bleaches a miss – enjoy a brighter, whiter smile!
Our lovely Oh Natural customers are sold on our natural teeth whiteners:
"This stuff really does work, noticeably whiter, fresher, cleaner teeth, I will absolutely keep using this product!" – Gina
"Great stuff!! Really works, make your teeth so shiny and clean looking and feeling afterwards!" – Sarah
"Love, love, love this stuff … teeth are whiter after 3 uses… really does work … 5 stars from me!" – Melissa
"This stuff is AMAZING!! My teeth were white, cleaner and I felt fresher." – Amber
"I was amazed at how bright my smile was after the first use, and love to see more results each time I use it!" – Jade
How can a natural tooth whitener work so effectively?
Natural teeth whiteners = clay, charcoal & essential oils
Bentonite clay is mildly abrasive and astringent, so it polishes teeth, removes stains and tartar, and cleans the gums. It detoxifies your mouth to help fight gum disease and strengthen immunity. Bentonite clay also works to re-mineralise and strengthen teeth, because it is rich in vital minerals like calcium and potassium. So you can enjoy a cleaner, healthier and more hygienic mouth.
The charcoal in teeth whiteners is very fine, non-abrasive activated coconut charcoal. It is very porous and absorbent, so it attracts and holds particles removing staining and discolouration from your teeth. Sound odd to put charcoal in your mouth? This is the food safe grade used in healthcare. You're all good.
Natural tooth whiteners also use peppermint or citrus oils to remove stains, strengthen sensitive teeth – and their anti-microbial and anti-fungal actives reduce infections and inflammation.
Zoo Natural Teeth Whitener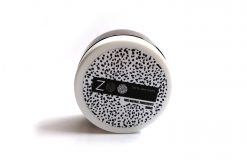 Zoo tooth whitener is all natural, vegan and cruelty free – and made right here in New Zealand. What's not to love? Its special formula combines activated charcoal and bentonite clay with spearmint and lemon essential oils to give you whiter teeth and a healthier, more hygienic mouth. The Zoo Teeth Whitener detoxes your mouth, strengthening gums & reducing inflammation. And, to top it off, 50 cents from the sale of each pot goes towards The Orangutan Project
What's in it? Food grade activated coconut shell charcoal, food grade bentonite clay, organic spearmint and organic lemon essential oils.
Warpaint 100% Natural Teeth Whitener
With completely natural ingredients, Warpaint teeth whitener does just what the label says.  It whitens and polishes your teeth, strengthens enamel and detoxifies your mouth – with any chemicals or additives. It'll remove toxins and heavy metals, strengthen your gums, remineralise your teeth and help you ditch those stubborn coffee stains.
What's in it? Activated Coconut Shell Charcoal; Calcium Bentonite Clay; Organic Sweet Orange Peel; Organic Peppermint; Organic Lemon Myrtle.
Natural dental hygiene for children – teeth whiteners are ideal
Tooth whitening powders are the perfect complement to good brushing – even for little teeth! A quick 2 minute polish with these charcoal-based teeth whiteners will give your little ones shiny, plaque free teeth. Even the most earnest children can rush through brushing and this is the ideal way to ensure that their teeth really are completely clean and white, and strengthen that precious enamel!
Browse our full range of eco-friendly tooth brushes, tongue scrapers, dental floss and natural tooth whiteners, and buy online now!