Remedial Benefits:
Oregano – is one of the most powerful fighters of bacterial infections. Its pure, immune stimulating properties will give your body the boost it needs to fight the symptoms of colds and flu.
Menthol – brings a cooling sensation to relax and calm the body and mind. Its sharp scent works to open the respiratory system to ease the effects of congestion.
Camphor – this potent vapour helps clear the lungs to increase respiratory circulation and promote the feeling of freshness and clarity. This stimulating aroma boosts the immune system assisting the fight against body infection.
Niaouli – the antiseptic properties of this gentle yet concentrated oil can help prevent air-borne infection. Its sweet, therapeutic effects aid in opening and clearing the respiratory system as well as the mind.
Peppermint – zesty and fresh, peppermint is the perfect mood lifter. Its unique aroma eases stress and works on your olfactory system to ease exhaustion and irritability.
Lemongrass – it's light, fresh citrus power makes it a natural, stimulating, mood lifter and calming agent. It brings balance to the mind and promotes mental clarity.
Ginger – renown for its remedial benefits for nausea, the fresh spicy scent will ease some of the most stubborn symptoms of illness in both the body and the mind.
Rosemary – this fragrant woody scent has been used in healing remedies since the 16th century. Its use to strengthen the immune system makes it a perfect component to boost the body's fight against infection.
Eucalyptus – natural and fresh, Eucalyptus brings positive and uplifting energy to your mood. It can relieve muscle tension and boost your immune system to protect you from changing climates. The scent clears the head and nasal passages promote deep breathing and calm.
Frankincense – mood-boosting Frankincense will help to balance and ground an anxious mind. It can deepen your breath helping to centre the focus and calm the nervous system.
Thyme – this gentle oil is the perfect pick-me-up when your body and a mind need a boost. It can refocus and cleanse mental energy and aid in treating muscle pain and stubborn respiratory conditions.
Clove Bud – this versatile and distinct aroma is a powerful mood lifter. It helps to promote clarity and focus, but best of all – it acts as an aphrodisiac to stimulate and excite your mind.
The Good Stuff:
Mentha Piperita (Peppermint essential oil)
Cymbopogon Flexuosus (Lemongrass essential oil)
Zingiber Officinale (Ginger essential oil)
Rosmarinus Officinalis (Rosemary essential oi)
Eucalyptus Radiata (Eucalyptus essential oil)
Boswellia Carterii (Frankincense essential oil)
Thymus Vulgaris L (Thyme essential oil)
Eugenia Caryophyllata Thunb (Clove Bud essential oil)
Origanum Vulgare (Oregano essential oil)
Mentha Arvensis (Menthol essential oil)
Cinnamomum Camphora (Camphor essential oil)
Melaleuca Viridiflora (Niaouli oil)
Directions:
Place the personal inhaler tip just below your nostril. Do not insert it into the nostril.
Close off the other nostril with one finger.
Slowly inhale to a count of 5 with full awareness of the remedial scents, then slowly exhale.
Repeat with the other nostril. Repeat the procedure 2-3 times.
You can use your personal inhaler every 2-3 hours.
If suffering from congestion or upper respiratory ailments, you can help get these under control with Black Chicken Remedies Respire Essential Oil Blend developed to quickly reduce swelling and inflammation in the nasal passages. When your airways are clear, you'll be able to enjoy the remedial benefits of our other blends too.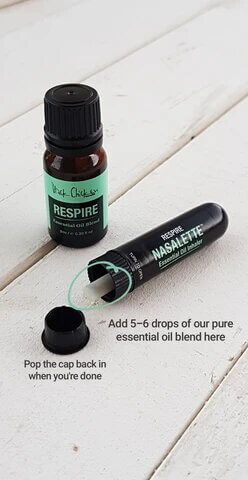 How to Refill: To refill a Nasalette™ Essential Oil Inhaler you can either remove the bottom panel (You need to get your fingernail between the ridged area and the very top part and it will come off – please see picture attached) or you can simply add a few drops of the oil via the top hole of the inner Nasalette™ Essential Oil Inhaler.