Remedial Benefits:
Cedarwood – used by the ancient Egyptians, the warm woody aroma works to decrease irritability and calm nerves to prepare you for relaxation.
Bergamot – the fresh sweet citrus properties in this oil help to release hormones like dopamine and serotonin inducing feelings of relaxation and sedation.
Cinnamon – this remarkably potent spice has been used in traditional medicines for thousands of years. It's distinct musky warmth aids in stimulating blood circulation, working to clear the system of toxins.
Vetiver – with its immune-supporting properties, its smoky caramel aroma has a calm and grounding effect creating the ideal environment for deep sleep.
Marjoram – is widely used as an analgesic for reducing pain and inflammation. It's aromatic oil properties calm the nervous system and have a positive effect on the mind.
The Good Stuff:
Cedrus Atlantica (Cedarwood essential oil)
Citrus Aurantium L. Subsp. Bergamia (Bergamot essential oil)
Cinnamomum Zeylanicum (Cinnamon essential oil)
Vetiveria zizanioides (Vetiver essential oil)
Lavandula Angustifolia (Lavender essential oil)
Anthemis Nobilis (Chamomile essential oil)
Origanum Majorana (Marjoram essential oil)
Directions:
Place the personal inhaler tip just below your nostril. Do not insert it into the nostril.
Close off the other nostril with one finger.
Slowly inhale to a count of 5 with full awareness of the remedial scents, then slowly exhale.
Repeat with the other nostril. Repeat the procedure 2-3 times.
You can use your personal inhaler every 2-3 hours.
Take your Nasalette™ Essential Oil Inhaler anywhere and refill when you need to with the Black Chicken Slumber Essential Oil Blend.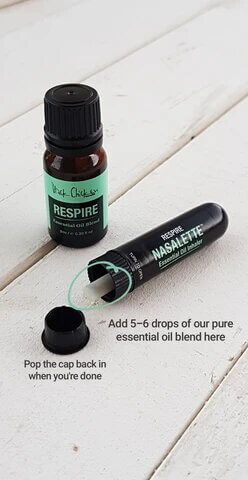 How to Refill: To refill a Nasalette™ Essential Oil Inhaler you can either remove the bottom panel (You need to get your fingernail between the ridged area and the very top part and it will come off – please see picture attached) or you can simply add a few drops of the oil via the top hole of the inner Nasalette™ Essential Oil Inhaler.