Give yourself a natural energy hit by inhaling our Upbeat blend of essential oils. Let Lime, Blood Orange and Spearmint infuse your body with feelings of invigoration, fun, romance, creativity and happiness! Using a Nasalette™ Essential Oil Inhaler as a natural way to increase your energy can help to support your nervous system without adding to your toxic load.
Remedial Benefits:
Lime – this fresh and stimulating scent invigorates the mind promoting a positive effect on mood. It lifts the spirit and fills the room with energy.
Blood Orange – an intense and fresh scent – this uplifting and sensual oil enhances the feelings of romance and sense of fun!
Spearmint – Don't underestimate its light, minty sweetness! This oil is a potent way to encourage your mind to focus while lifting your spirits to enable a creative, energetic space.
Frankincense – mood-boosting Frankincense will help to balance and ground an anxious mind. It can deepen your breath helping to centre the focus and calm the nervous system.
Ylang Ylang – is used as an effective natural antidepressant and aphrodisiac. Its powerful antioxidant properties generate a positive outlook creating a stimulating, happy and calm effect.
The Good Stuff:
Citrus Aurantifolia (Lime essential oil)
Citrus Sinensis (Blood Orange essential oil)
Mentha Spicata (Spearmint essential oil)
Boswellia Carterii (Frankincense essential oil)
Cananga Odorata (Ylang Ylang essential oil)
(Peru Balsam essential oil)
Cymbopogon Martinii (Palmarosa essential oil)
Cedrus Atlantica (Cedarwood essential oil)
Pelargonium Graveolens (Geranium essential oil)
Directions:
Place the personal inhaler tip just below your nostril. Do not insert it into the nostril.
Close off the other nostril with one finger.
Slowly inhale to a count of 5 with full awareness of the remedial scents, then slowly exhale.
Repeat with the other nostril. Repeat the procedure 2-3 times.
You can use your personal inhaler every 2-3 hours.
Take your Nasalette™ Essential Oil Inhaler anywhere and refill when you need to with the Black Chicken Upbeat Essential Oil Blend.
Made with love in Australia.
Vegan, cruelty free, with no added water or fillers.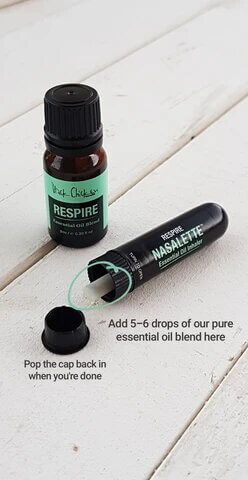 How to Refill: To refill a Nasalette™ Essential Oil Inhaler you can either remove the bottom panel (You need to get your fingernail between the ridged area and the very top part and it will come off – please see picture attached) or you can simply add a few drops of the oil via the top hole of the inner Nasalette™ Essential Oil Inhaler.