Remedial Benefits:
Pink Grapefruit a natural stress fighter, the sweet scent of pink grapefruit gives an uplifting boost to the mind whilst soothing and clarifying your focus.
Basil  this oil is known as the 'oil of renewal'. It aids in alleviating fatigue and exhaustion.
Neroli this light, sweet fragrance was used by the Egyptians to heal the mind and spirit. It acts as a mild natural sedative to help increase balance and reduce night-time anxiety.
Patchouli has a soothing effect on the nervous system and works to help relieve the symptoms of anxiousness and stress by encouraging the release of serotonin and dopamine.
Lavender  is a widely used remedy for a calming, relaxed effect on the mind. It has been used for anointing and healing for centuries. Its unique properties alleviate anxiety and sleep disturbance and can help relieve the effects of depression.
Nag Champa the sacred Champa flower is used to make this heady sweet aroma. It helps relax a distracted mind to focus on specific thoughts, tasks or meditation.
Marjoram is widely used as an analgesic for reducing pain and inflammation. Its aromatic oil properties calm the nervous system and have a positive effect on the mind.
Mandarin this fresh sweet oil brings an uplifting, happy, soothing effect to the mind. It helps calm an over-active mind and sooth restlessness.
Bergamot the fresh sweet citrus properties in this oil help to release hormones like dopamine and serotonin inducing feelings of relaxation and sedation.
The Good Stuff:
Citrus Paradisi (Pink Grapefruit essential oil),
Ocimum Basilicum (Basil essential oil),
Citrus Aurantium Amara (Neroli essential oil),
Pogostemon Cablin (Patchouli essential oil),
Lavandula Angustifolia (Lavender essential oil)
Michelia Champaca (Nag Champa essential oil)
Origanum Majorana (Marjoram essential oil)
Citrus Reticulata (Mandarin essential Oil)
Citrus Bergamia (Bergamot essential oil)
Directions:
Place the personal inhaler tip just below your nostril. Do not insert it into the nostril.
Close off the other nostril with one finger.
Slowly inhale to a count of 5 with full awareness of the remedial scents, then slowly exhale.
Repeat with the other nostril. Repeat the procedure 2-3 times.
You can use your personal inhaler every 2-3 hours.
Take your Nasalette™ Essential Oil Inhaler anywhere and refill when you need to with the Black Chicken Respire Essential Oil Blend.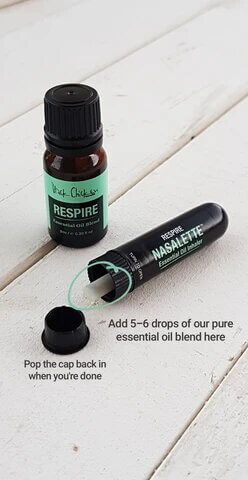 How to Refill: To refill a Nasalette™ Essential Oil Inhaler you can either remove the bottom panel (You need to get your fingernail between the ridged area and the very top part and it will come off – please see picture attached) or you can simply add a few drops of the oil via the top hole of the inner Nasalette™ Essential Oil Inhaler.