Important Hairprint Information before colouring your hair naturally:
1. Hairprint Color Restorer works for naturally black, brown, and light brown hair only. We do not have a formula for blonde or red hair.
2. To determine what color to order or if you need two kits for your first application, check this Colour Chart: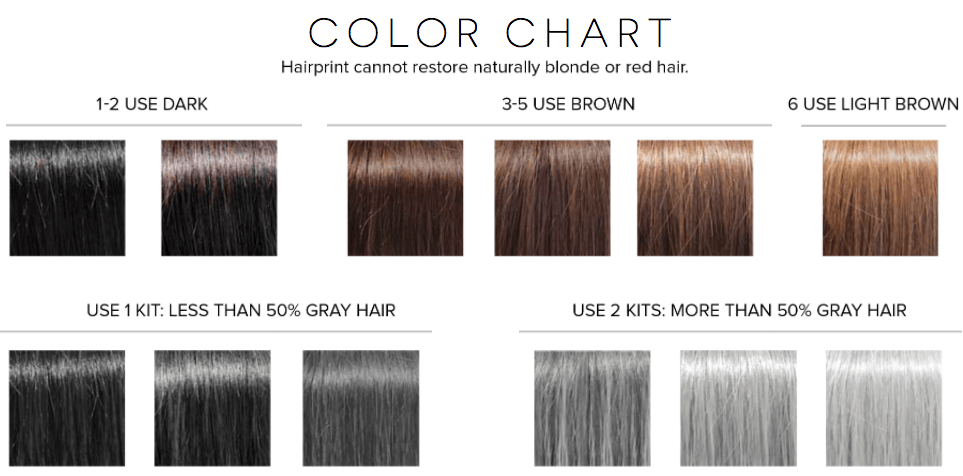 3. If you have used hair dyes, relaxers, perms/waves, dyes, blowouts, or keratin treatments, please read our Transition Tips below before ordering. You will need to take special steps protect your processed hair. Please do not apply Hairprint True Color Restorer to hair that has been previously exposed to chemical processing.
Hairprint Colour Restore Vs Generic Hair Dyes
Invented in the early 1900's, permanent hair dyes were created at a time when there was less awareness of the harmful effects of the toxins, endocrine disruptors, coal tar dyes, carcinogens, and other chemicals used in big brand hair dyes. In a way, Hairprint functions opposite to how hair dyes work. Rather than stripping hair of its color and inserting coal tar dyes, which all permanent hair-coloring products do, Dr. Warner's process mimics how our hair gets its natural hair color in the first place. The color responsible for all brown and black hair is eumelanin, which is a variation of the melanin pigment that is responsible for the color of your skin and eyes. The reason hair colour restored with the use of Hairprint looks so natural – is because it is natural. This before and after is an example: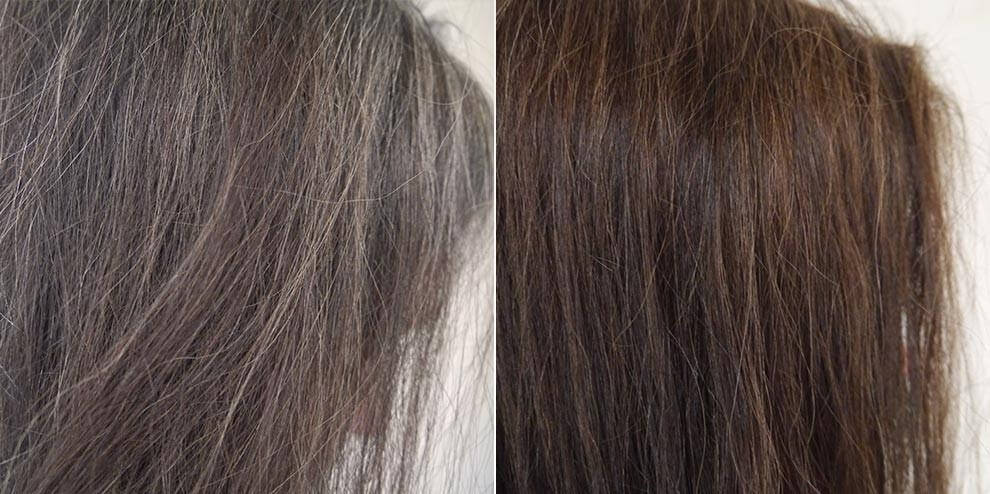 Tips to ensure the best result with Hairprint colour restore
Hairprint only works when it has unobstructed access to the hair. In order to achieve the best possible results please read over "Making the best of your Hairprint Application: The 7 Day Detox" below.
The best way to get started is by using our Chelating Shampoo. The Chelating Shampoo will help loosen hard water minerals, oils and synthetic residues that cling to the hair and build up over time. Most commercial hair care and quite a few products labeled "natural" or "organic" contain quaternary ammonium compounds (quats)*, proteins, oils and silicones. These ingredients must be removed to achieve best results.
Our Amla, Bamboo, and Kelp shampoos and conditioners are "gunk-free" and ideal for regular use both before and after Hairprint True Color Restorer. Each formula is free of synthetic residues and suitable for both virgin and color-treated hair. They rinse away leaving healthy, soft, clean hair.
*What are quats? These are bromine or chlorine salts of ammonia that act as anti-static agents, disinfectants, and algaecides. Many natural hair care companies justify quats because they may be made from rapeseed or turnip oil. Quats can defrizz the hair and make it feel softer. However, it is the MSG of hair care: addictive and unnecessary. Quats are toxic to the fish that end up swimming in them when you wash it down the drain. What something is made from does not matter. What it ends up as does matter. Quats coat the hair and may gum up the follicle. They include cetrimonium chloride, behentrimonium chloride, and guar hydroxypropyltrimonium chloride. Healthy hair does not need synthetics. What is toxic to fish is not good for you either.
Make the best of your Hairprint: The 7-day Detox:
Hairprint True Color Restorer's patented and gentle gray restoration treatment must be applied to clean hair. Truly clean hair is free of all oils and synthetic ingredients that can coat and clog the hair. Natural oils and synthetic ingredients such as quats, silicones and proteins, will negatively impact your results.
Please read carefully through our "Ingredients To Avoid" article and then familiarize yourself with the ingredients in your shampoos, conditioners, styling products and hair treatments.
With a proper detox, not only will your restoration be better, but the results will be longer lasting.
7 days before application:
Discontinue use of all hair products (shampoo, conditioners, styling products, treatments and oils)
Use Chelating Shampoo 1-2x week, leave on for 5 minutes, rinse and follow with Hairprint Conditioner. If you notice that after using the Chelating Shampoo your hair feels sticky or oily please follow up with a second cleanse to help remove excessive silicone build up.
Use Hairprint Daily Shampoos and Conditioners every 2-3 days as needed during this time. If you do not have these available, you can substitute with baking soda as shampoo and apple cider vinegar as a conditioning rinse.
3 days before application
Discontinue use of Hairprint Conditioners (they contain lovely natural oils) and be mindful of any skincare products used close to the hairline/sideburns.
24 hours before application:
Wash with Chelating Shampoo, leave on 5 minutes and rinse. Do NOT follow with any other products. If your hair is prone to being dry, you can use an apple cider vinegar rinse following this wash.
After years of researching ingredients and trying to help our AMAZING customers find haircare that does not contain insidious synthetic ingredients, we have formulated our own hair care products that work seamlessly with our treatment. These are currently the ONLY products we can guarantee will not block Hairprint Color Restorer results.
Detox seem too long?
If you make the switch to our Hairprint Daily Hair Care, and discontinue using styling products that contain silicones, quats and heavy oils, you need only follow the 3-day detox for following root/regrowth applications. This is ONLY the case after your initial detox and initial application. If you choose to go back to or use conventional haircare, then you will need to do the full 7-day detox before each application.