AWWA Period Underwear – Eva brief
What is AWWA?
"AWWA embodies everything that we stand for and believe in for future generations of women. To us it means fluidity. AWWA is derived from the Maori word "awa" meaning river or flow. Maori referred to their period as te awa atua – the divine river, and we want every woman to feel divine and empowered during their period. AWWA is not just meant for those who menstruate, but gives amazing confidence to newly menstruating teens, and provides support and comfort during pregnancy, post-partum and for minor bladder leakage."
How AWWA period undies work so well!
AWWA period and pee proof undies look and feel just like your normal underwear, but hold and absorb up to two regular tampons' worth of blood.
The rigorously tested NZ designed period underwear features:
innovative super slim fabric – no bulky layers here!
a super-absorbent layer to hold and absorb 2 tampon's worth of flow
an anti-microbial layer that uses the latest fabric technology to prevent odours
a soft layer closest to your skin to draw moisture away fast, ensuring you remain dry and feel fresh
an outer layer to provide a leak-resistant barrier
flattering cuts that fit comfortably but firmly to help prevent spills, and feel stylish and sleek
Depending on your flow, you can choose to wear AWWA period underwear as an alternative to pads, tampons or cups, or in conjunction with other menstrual products. Whatever works for you is great!
Absorbency: 2 tampons, 2 pads, 1/2 menstrual cup or 12 mls.
How to Manage your Period with AWWA
Wear your AWWA underwear for as long as you would normally wear 2 regular tampons or 2 pads.

Rinse your AWWA underwear and throw in the washing machine with your ordinary clothes or in an AWWA wet bag when you're out and about

Put on another pair of AWWA underwear and go smash your day!
AWWA Underwear Sizing
Note that AWWA's sizing changed in 2021 – see the chart below for their updated sizing.
AWWA underwear is made true to size so your best bet is to use their sizing charts below to ensure you get the best fit. The most important measurement is your hips, as this is where the underwear sit. To ensure the leak-proof technology does its job the underwear fits slight more snug than your regular underwear. See below for their sizing chart. 
If you have any queries regarding sizing you can reach out to us here or at hello@ohnatural.co.nz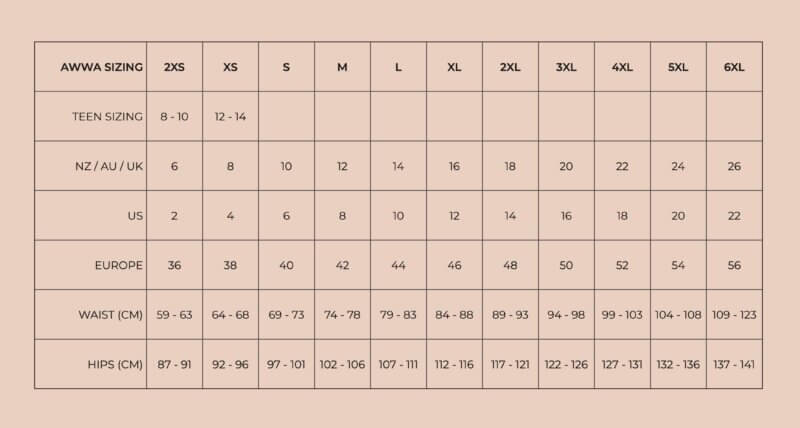 Also check out AWWA's wet bags, designed to give you peace of mind when you're out and about and need to switch up your AWWA underwear.
Packaging: AWWA's underwear comes in recyclable cardboard packaging and does not have any plastic packaging.
Eva Brief Fabric Composition
Underwear outer: nylon 86%, 14% elastane
Inner: polycotton blend; breathable PUL
Layer closest to skin: 95% organic cotton, 5% elastane
Note: AWWA was formerly called I am Eva hence the reference to this name in one of the reviews.