Being a parent is hard work, emotionally and physically… it's quite likely that no other experience in life has left you so exhausted, worn down and neglectful of your own needs. It's also exhilarating, miraculous and full of sticky-fingered cuddles and crushed flowers given with undiluted love.
All in all, we choose to take parenthood and all the sleepless nights, tears and heartache – because the pay-off is priceless. But – let's hear it for the mums and the dads who manage to keep it (mostly) together. You're legends.
With absolutely no professional qualifications, but a lot of aroha, we have compiled a list of ways to lace a little richness into your life as a parent – we hope you enjoy.
Schedule 'you' time
Oh, it sounds impossible, doesn't it? But be determined – you need to be 'just you' sometimes, in order to be a great parent the rest of the time.
Brainstorm ways to find great childcare until you find one that works – the neighbour's kid, swaps with the in-laws, a paid local baby sitter, grandparents, coffee group collaborators – and go do you.
It could be a long beach walk, a classy dinner and date night, shaking your hair loose in a club, or sleep lovely sleep. Make a date now with the adults you love most and do things without children. Create space to remember who you are when you don't have anybody balanced on your hip!
Redefine 'great parent'
A great parent is a parent who is trying their best to do a good job of parenting. Full stop.
Look around you – every parent you see trying to do the right thing is a great parent. Nobody gets it right all the time. Nobody has exactly the same ideas as you.
Trying our best is all we can do… and sometimes our best may not be very impressive, but 'mother-guilt' is always a waste of energy. Having a bad day? Take a long kind look at yourself and list all the things you did right, for someone else, in the last 24 hours. Imagine it is your best friend with messy hair and baby puke on her shirt and rings under her eyes… give yourself the love and support you would offer her.
Get down on the floor
Play with your children and immerse yourself in their interests. Volcanoes, ponies, diggers – children learn through their curiosity, and the more you involve yourself in their interests the more they will learn, and the richer your connection will be.
"Listen earnestly to anything [your children] want to tell you, no matter what. If you don't listen eagerly to the little stuff when they are little, they won't tell you the big stuff when they are big, because to them all of it has always been big stuff."  – Catherine M Wallace
Treat yourself
SHOP NATURAL GOODNESS
Reduce, reuse and relax
Parenting, especially in the early days, is a crazy time for creating waste! Single-use items like nappies, wipes, breast pads and sanitary pads fill bin after bin. Creams, soaps, ointments, and drops are purchased and opened to help keep bub healthy and thriving. The waste can be overwhelming. It can also be overwhelming to try and go reusable on absolutely everything.
Less can be more. Barrier creams like Everyday Balm from Ama are great for things like nappy rash, cuts, scrapes and chapped lips. A simple bar of soap can be used for both body and hair and natural body oils can be used in the bath, as a moisturiser and also as a massage oil! Wool breast pads are 'wash n wear' and wick moisture away from your skin, helping to prevent rashes and sensitivity.
De-cluttering your home and saving the cost of buying multiple disposable baby products will bring you a zen sense of calm. Minimalism is the new black.
SHOP WASTE FREE
SHOP MOTHER & CHILD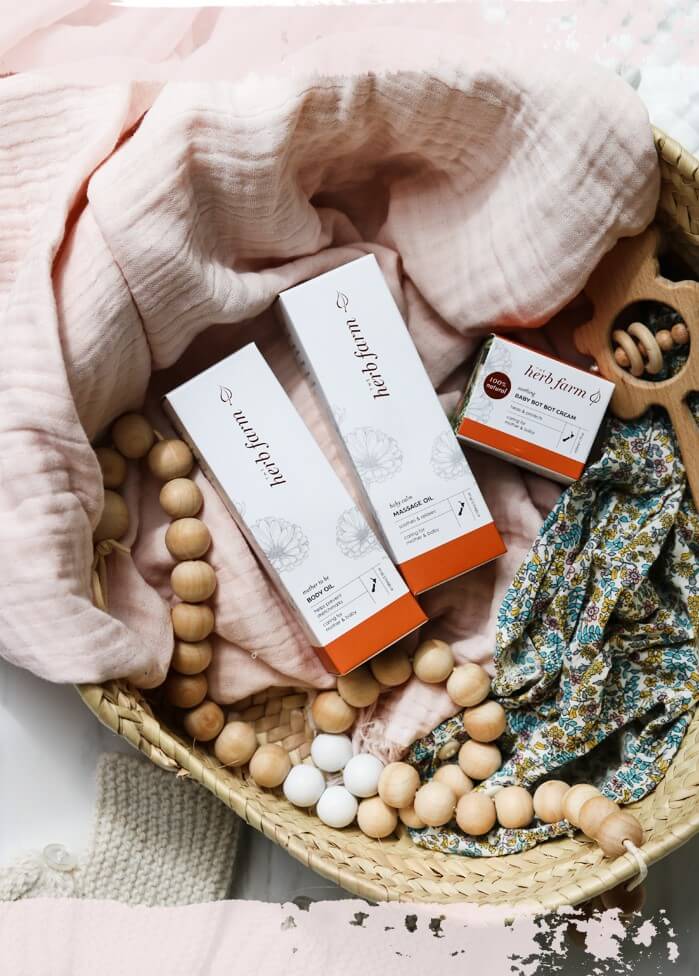 This gorgeous prize contains a Baby Calm Massage Oil, a Mother to Be Body Oil and a Soothing Baby Bot Bot Cream from The Herb Farm!
HERB FARM GIVEAWAY!
To enter, comment below and share something great you did recently with a child in your life! It could be your child, your stepchild, your grandchild or your friend's child!
You can enter via our Facebook and Instagram pages too! Just find the post and follow the directions there.
Ends Midnight 6th Oct 2019, NZ & AU residents only. Prize cannot be exchanged for cash.